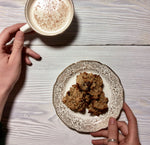 Peanut butter, banana and chocolate chip cookies.
Ingredients
3 very ripe bananas
1/2 cup natural peanut butter
1 tablespoon coconut oil, slightly warmed, but not melted
2 tablespoon honey The Three Acres
1 teaspoon vanilla extract
2 1/2 cups gluten-free oatmeal
1 teaspoon baking powder
1/4 teaspoon ground cinnamon
1/4 teaspoon sea salt
3/4 cup chocolate chips
Preparation
Preheat the oven to 350 degrees F. Line a large cookie sheet with parchment paper. Set aside.
In a large bowl, mash the bananas with a fork, add the peanut butter, coconut oil, honey and vanilla extract. Mix until smooth.
In another bowl, combine the oats, baking powder, cinnamon and salt together. Add the dry ingredients to the liquid ingredients, mixing well. Add the chocolate chips.
Using a tablespoon, make balls with the mixture and place on the cookie sheet. Bake for 12-14 minutes or until cookies are baked. Finally, before you satisfy your sweet tooth , let cool on the cookie sheet for a few minutes.